--From the archives, in the old email format--
The official newsletter of StrongFast Fitness
and Earthlings everywhere.
August 7, 2012

Is this email not displaying correctly?

View it in your browser

.
In this issue...
What's New at StrongFast?
Feature Article: Travel Strong
Fitness Found Online
Recipe: Mashed Cauliflower
What's New at StrongFast?

The Saturday morning B52-Z Metabolic Resistance Training classes resume this Saturday, August 11th, and continue for the rest of the month. These will be
open to all comers for just $15 a session
. StrongFast members can sign up in
Blitz Central
; non-members at
blitzometer.com
. Look for the "Saturday Morning B52-Z Workout" Blitzes. Each class is limited to eight people, so don't dilly dally!
And for StrongFast members only (sort of), a
free session on hip hinging
is available on Wednesday, August 15th at 6:30 pm. This will be an hour of instruction and practice exercises to help ingrain the hinging movement. It will not be a hard workout so you can do it even if you have something intense in your Blitz that day. As for the "sort of" part, members can bring a guest, also for free. Guests don't need to sign up; members sign up in
Blitz Central
. Hope to see you there!
And this just in:
Meal Movement
is having a sale, but only until Friday, August 10th. Meal Movement delivers 30 days worth of real food that you can just heat in a microwave for a quick, tasty, healthy meal. No wacky snack bars or meal replacements or other gimmicks. Anyway, they're running a $50 off sale by using the coupon code "mytrainer". And StrongFast throws in another $20 off! So check it out
here
, but hurry!
"You can't go from my level of activity into a marathon. Maybe a good start for me is not taking the car to get the mail."

-Megan Mooney
Feature Article
Travel Strong
This week, I'm reporting from the chilly West Coast. (No, really. It was 94 back home today, mid-60s here. Brrrr!) What better way to keep warm than with some training?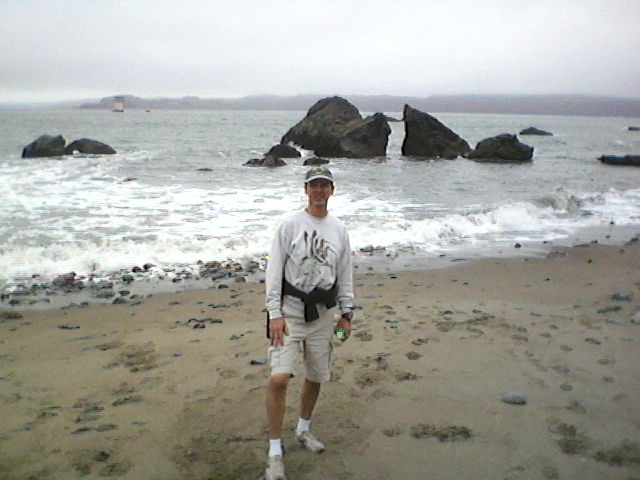 When hitting the road, it's always a good idea to plan ahead to take advantage of your location. For example, most hotels have fitness centers (of widely varying quality), a beach trip can feature lots of water activities (swimming, snorkeling, bodyboarding, wind surfing, etc.), and a trip to the Bay Area can (and should) include hiking and biking and, of course, hill walking.
But what about strength training? A hotel might have weight machines but few have the much more versatile--and really, just better--free weights. Another option is to bring some travel-friendly equipment with you.
Superbands
(not like U2, but giant, super-strong rubber bands) travel well and are very versatile. Suspension trainers (
TRX
is the most well known) offer plenty of options with a doorway attachment.
But there's an alternative that's always available: bodyweight training. And that's what I've got going on this week. At
StrongFast
, rather than targeting specific muscles we focus on covering basic movement patterns: push, pull, hinge, squat, and lunge, plus some core stabilization work. So here's my quick but thorough workout for this week, with some suggestions for modifications to make them easier and/or harder. This will be only quick introductions to the movements rather than detailed explanations. As with all such exercises, having someone who knows what they're doing to help you learn the movement is invaluable.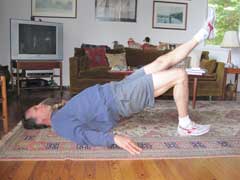 Hinge
: Hip hinging is an often overlooked, but extremely important training movement. A couple of the most common loaded exercises here are
deadlifts
and
kettlebell swings
. With just bodyweight, we can use hip raises (sometimes called hip bridges). For the basic version, lay on your back with your knees bent and feet flat, then push up through your heels to get your hips in line with your torso and thighs, squeeze your glutes, hard, then lower. When done correctly, it's harder than it seems, but if that's too easy, use one leg at a time.
Pull
: This is the only one that requires more than a floor because if you're going to pull your bodyweight, you need something to hold onto. Fortunately, suitable things are pretty easy to find. Here, I'm using that old standard: pull-ups. (By convention, a "pull-up" is done with the palms facing away; a "chin-up" with palms facing toward you.) Things to pull-up on include tree limbs and ledges. (If you have strong fingers, a sturdy door frame will work.) I went with the ledge. If pull-ups are too much, stand on a sturdy bench or chair and use your legs--only as much as necessary--to help you complete the movement.
Lunge
: These are notoriously hard to do correctly, with a strict vertical movement of the hips. I like split squats because they put you in the lunge position and keep you there for all your reps making it easier to focus on consistent form. I'd rather do them while holding dumbbells, but they're good unloaded as well. (You can always improvise loads, of course, by holding buckets of water, for example. Or sacks of cats.) If these are too difficult, hold on to something and use your arms to assist the movement.
Push
: The easiest one to answer, thanks to the classic pushup. There are far too many variations of this basic movement to even scratch the surface here. But the basic version is fine. Too easy? Put your feet up on a box. Too hard? Put your hands on a box or table (higher = easier).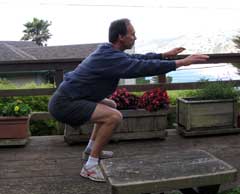 Squat
: This is another one of those neglected movements that is very difficult for most people (like me!) to do correctly, which is unfortunate since it's not only an extremely important movement, it's one we grow up doing perfectly but lose along the way. The goal is to get your hips low enough that the top of your thighs are at least parallel to the floor. But it's important to do the movement by pushing the hips back to take stress off the knees and quads and move it toward the powerful (but neglected) glutes and hamstrings. A good way to develop this is by squatting down to a chair or box, lightly touching your butt to it, and pressing up through your heels. Keep lowering the box until you get the thighs-parallel position, then eliminate the box which will enable a bit of bounce off the bottom. Too easy? Slow it down. Take three seconds on the way down, pause, and take three seconds on the way up.
Core Stabilization
: Planks and side planks. That's all I have to say about that.
You can do these as a circuit: do one set of each and then repeat them all one or two more times. It doesn't take a lot of time, but it does a lot of good. So next trip, give it a shot. Heck, you can even do it while you're home!
Be seeing you.
-gary
Fitness Found Online
| | |
| --- | --- |
| Wish I could say this was planned, but here we are with the third week in a row of footwear-related news, even though this is not really new news. Skechers settled a government suit charging that their "toning shoes" didn't really promote weight loss and tone muscles. If it sounds too good to be true... | Aerobic fitness has a favorable effect on cognitive functions. At least in rats. It's not a great study, and doesn't use exercise to develop fitness, but for anyone who still needs another reason to work out, it's something...even if you're not a rat. |
Recipe: Mashed Cauliflower
For you mashed potato lovers comes a possible alternative. I haven't actually tried this one yet. If you do, let us know what you think!